Leo Giamani Rips Apart David's Tight Ass
Thursday, February 26th, 2009 at 3:33 am
David Chase had a birthday recently and I wanted to do something special for him. He was in town so I thought I'd take him out for drinks. I asked what he'd like to do for his special day and he got this gleam in his eye and said, 'I wanna get fucked by Leo Giamani'. I think he was half joking, not thinking that I would actually arrange it, but I figured why not? I mean, the best scenes are the ones where the models really look forward to working with each other, so this could possibly be an amazing video. I was right. They worked so well together. Leo is looking incredibly hot with those huge muscular arms of his, a chest nobody could look away from and legs that you just wish you could rub your inner thighs against. I'd mention his enormous cock but what more can be said about it. Plus, the look on David's face will pretty much tell you everything you need to know about it. But I'm getting ahead of myself. David couldn't wait to get at Leo's hunk of meat and once he was up close and personal with it his mouth was watering to start sucking it. He gives a blowjob like he's watched hundreds of them and has taken the best, the most skillful and the most unusual aspects of each and blended them all together. It's definitely something to see. And you can tell that he's totally blowing Leo away by it. And Leo was more than happy to return the favor by burying it deep into David's inviting hole.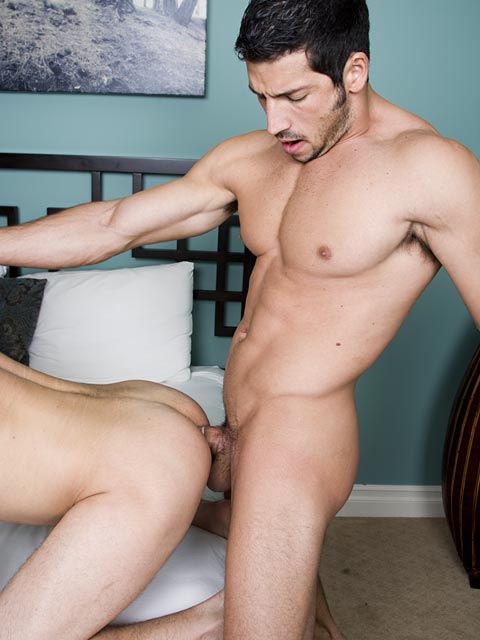 How about watching the WHOLE THING?
Tagged with: anal sex • Bearded • blowjobs • David Chase • fucking • hairy • Hardcore • Leo Giamani • manly • Muscles • oral sex • sucking cock
Filed under: Randyblue Movies
Like this post? Subscribe to my RSS feed and get loads more!