Huge Texas Dude Matt Sprays Floor With His Cum
Friday, November 5th, 2010 at 9:09 am
Matt is a 25 year old dark haired beefy boy from Texas.  He is 6'1" tall and a thick 205 lbs with a thick 8 inch cock.
Matt kinda blew in and blew out of the house so quick that I almost forgot that he hung out with us for a while.  Matt walked in when we were in the middle of watching Haigan fuck Tanner. He immediately hit it off with Haigan and they started fucking with each other a bit.
Matt is a big solid Texas boy standing 6'1" tall and weighing 205 lbs.  He has a thick beefy build and a cocky attitude to match.  Matt loved being around all the guys but he seemed just a little unsure about getting naked for our cameras.
I finally cornered Matt out on the deck and just chatted with him for a while.  He finally just decided to take off his shirt and give us a little show.  Matt has dark tanned skin and a tattoo that covers most of his arm.  He has this bad boy Guido kinda look but a much more sensual attitude.  Matt didn't stop there; he took off his pants and gave us a show right on the deck.
Matt stood naked with his foot up on the railing as he worked his cock into a full hardon.  Matt's cock is a good 8 inches a full attention and he has a fair amount of pre-cum.  Matt stroked his cock as he probed his hot tight hole.  He then unloaded a huge stream of cum all over as he dripped with sweat. I want to see someone fuck his hot thick ass sometime. 
Click here to watch Matt's entire video at SouthernStrokes!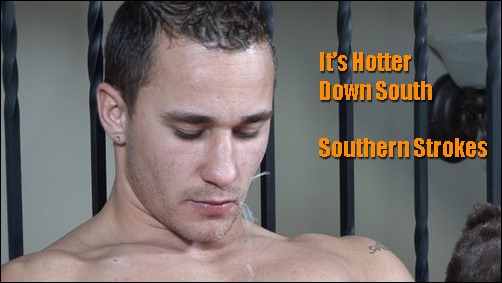 Tagged with: black shirt • cum • cumshot • dark haired • dog tags • Facial Hair • handsome • jerking off • manly • Matt • nice hard cock • Southern Strokes • sperm on the floor • straight. Texas boy • strong beard • tattoos
Filed under: Uncategorized
Like this post? Subscribe to my RSS feed and get loads more!