Masculine studs fuck hard
Thursday, March 18th, 2010 at 6:44 pm
Sexy Brenden Cage takes center stage this week on MenOver30.com. To get a better idea of what this 33 year-old New Yorker can do when he's not jacking that cock alone, we decided to pair him up with spicy, Colombian alum Alexander Garrett. The chemistry is off the charts as these two, kissing passionately, break the ice. Slowly, they undress the other as their tongue-fest continues. Brenden's hand is exploring Alexander's crotch. It isn't long before he's on his knees pulling down Alexander's shorts and underwear as his thick, uncut cock springs into view. Alexander's thick 8" meat is getting a rather inspiring welcome. He's rock hard as Brenden sucks on it. Alexander then wants some as well, as they strip completely. He takes his turn on Brenden's bone. Alexander expertly works Brenden's cock as Brenden gets antsy for more of Alexander's. Soon enough, Brenden is back on his knees, working that fat 8" cock. He's not even close to being done with his sampling session. He leads him toward the couch, where he gets Alexander on all fours. His smooth ass is exposed. Brenden takes advantage of that by slipping his hot tongue deep inside that ass. He laps and sucks away as Alexander writhes in ecstasy. Brenden then sits on the couch, spreads his legs wide, and waits for Alexander to get on. Is this seat taken? Hmmm. Alexander has his cock buried balls deep in that "culo caliente" soon enough. Brenden is doing his part to make sure that 'hot ass' is being taken care of. Alexander keeps riding that cock til Brenden decides he wants more control and first bends him over the chair and then moves the action to the rug. Brenden takes Alexander Missionary. He fucks away at his Latin lover. Alexander just begs for more. All this fucking gets them both close, as they reconvene on the couch and jack themselves off, shooting their hot loads all over themselves. ¡Muy Caliente!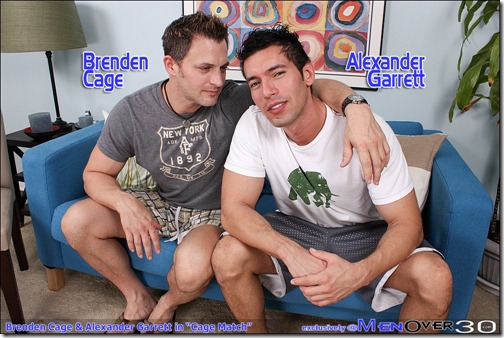 Click here to watch these two amazing studs fucking on Men Over 30 – the site devoted to 30-something men!
Filed under: Men Over 30
Like this post? Subscribe to my RSS feed and get loads more!