Girth Brooks and Jake Cruise
Tuesday, April 27th, 2010 at 12:09 pm
Girth Brooks is a man whom the lord has endowed with a great, huge gift. Girth and the tree trunk dangling beneath his furry forest are here to play with me.  Praise the lord and his bounty! I peel him out of his clothes and surprise Girth and myself by swallowing his mast down to his balls. I surprise even myself! I undress and we compare cock sizes. It's close (yeah right!) but I think Girth might have me by a smidge. I suck Girth some more and we frott a bunch which I find super-hot. I even contemplated taking that thing up the butt, then decided that it's in my ass's best interest to pass this time. Otherwise it may be the last scene I ever do. Girth fucks my thighs and then my face before shooting his sweet juice. I crank out a load of my own while Girth straddles my chest. I'm truly in heavenly bliss.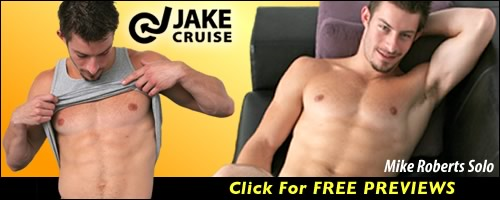 Click here to watch their entire video!
Tagged with: Girth Brooks • huge cock • Jake Cruise • sucking dick
Filed under: Jake Cruise
Like this post? Subscribe to my RSS feed and get loads more!