Seth Chase – JJ Swallows Seth Chase's Huge Load
Tuesday, March 6th, 2012 at 12:03 pm
I've filmed JJ Michaels a few times before this shoot, always with other guys. He did such a great job in those scenes that I jumped at the opportunity to work on camera with him myself.
When JJ arrived he looked fantastic. He had some growth on his face that was really sexy and got me all horned up. JJ identifies as straight but you wouldn't know it by his eagerness to get the scene started. He whips out my cock & gets right to work. You can tell JJ is really, really into this suck off.
I usually pre-cum quite a bit and this time was no exception. As soon as JJ noticed the clear pre-cum pouring out of my cock he went in for a taste. He moaned as he licked my cock head clean. JJ has taken cum on his face before but never in his mouth. I was about to change all that!
JJ leans back on the bed and I face fuck him fast and hard. I could tell I was going to shoot a massive load and JJ was really wanting it bad. I've been sucked off by a lot of guys before. However, I must say, the build up and release was pretty fucking incredible this time around. It really helps when you can sense the guy blowing you really wants your load.
I couldn't hold back any longer. My cock was far down JJ's throat when I start to cum. The first squirt of semen literally bypassed his mouth and went straight down his throat. I pulled back just a little making sure JJ got a good taste of my load. Sure enough, as soon as my dick comes out of JJ's mouth he spits a mouthful of jizz on me, covering my dick with my own cum.
He then took my dick back in his mouth and sucked me some more. All the while cum was oozing out of my dickhead. He must have swallowed a massive amount of sperm. I pulled out again and slapped my cum dripping cock on his cute face.
I asked JJ if he wanted to shower or just wash his face off. He said he was OK, grabbed a dry towel and wiped the cum off his mouth and face.
Aaron and I then gave him a ride to a restaurant where he was meeting some friends. We hugged good-bye and I swear I could smell my dry cum on his face. I wonder what his friends must have thought when they smelled cum on their "straight" friend's face…
Short preview video:



Click here to watch their entire video in perfect HD quality at Seth Chase!
Seth Chase is a hot amateur porn actor that appears on sites such as SUCKoffGUYS, FUCKoffGUYs and now he has his own personal webiste Seth Chase where we can view all those big cumshots of his that he is most famous for. Seth has a beautiful hard dick and his cumshots are some of the best in porn!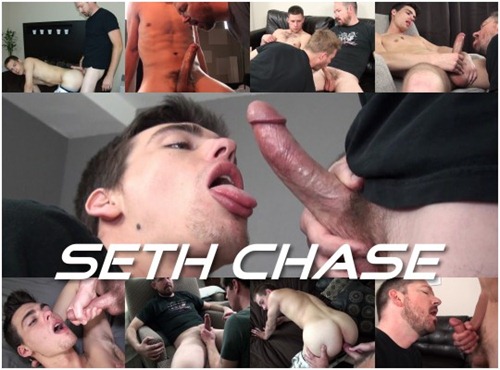 Tagged with: beautiful cock • big load • blowjob • cocksucker • daddy • erection • huge cumshot • masculine • Seth Chase • sperm shooting • swallowing cum
Filed under: Seth Chase
Like this post? Subscribe to my RSS feed and get loads more!