NYSM – Sexy Urban Cowboy Jimmy Cums For A Blowjob
Tuesday, September 6th, 2011 at 4:39 pm
Jimmy intends to spend a couple of months in the West in "Big Sky Country". He promised to help his brother round up cattle! You see, Jimmy was born out West and currently works for NYPD and NYC Parks in the equestrian department. So Jimmy is defo an Urban Cowboy, yey!
We thought it would be really unfair for him to be without a good blowjob for such a long time and so we invited him to come over and let our resident cocksucker Trey blow him.
Jimmy was unusually relaxed during this blowjob, I guess our cocksucking has influenced this man in such a positive way that he feels totally relaxed and cool with a guy blowing him.
While Trey was blowing him, I have a sneaking suspicion that Jimmy didn't actually think about Trey but about some of his girlfriends… but that's OK!
In the end Jimmy blew a huge load which surprised Trey as well!
This is truly a hot blowjob session and we're proud of this movie a lot. It even has a unique twist towards the end…. and OMG, Jimmy is so handsome and hot!
Short preview video:


Click here to download Jimmy's entire movie from New York Straight Men!
New York Straight Men is a huge collection of hot, truly masculine men from NYC who like to get a good blowjob, even from a man. These guys will make and keep your cock hard and happy for a long time because there is a new guy added every 5 days!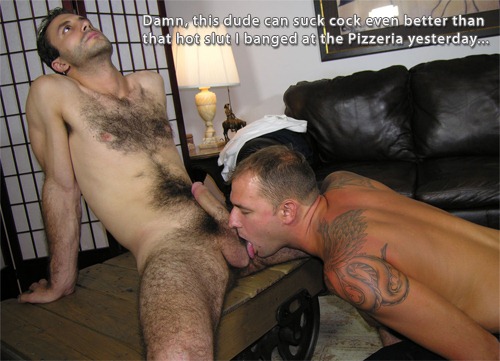 Tagged with: big feet • blowjob • cowboy • cumshot • equestrian • Facial Hair • horses • Jimmy • masculine • New York Straight Men • trackies • Trey
Filed under: New York Straight Men
Like this post? Subscribe to my RSS feed and get loads more!